Recycling Specifics
Learn what we can and cannot accept for recycling.
We accept different types of items at different events, be sure to check our event page to see upcoming collection events!
Electronics: what we can and cannot recycle
Accepted
Devices with Screens
Televisions
CRT Monitors
Flat Screen/LCD Panels
Plasma Screens
Rear Projection Televisions
Laptops
Smart phones
Tablets
E-readers
Office Equipment
Computers or CPU's
Printers
Scanners
Digital Adding Machines
Digital Calculators
Fax Machines
Network/Server Equipment
Hard Drives
Circuit Boards
Cell Phones and LAN Line Phones
Digital Cameras
Projectors
Video Game Consoles
Accepted
Small Electronic Waste
Keyboards
Mice
Network Cables
Power Cables
Computer Cords
Remote Controllers
Chargers
Extension Cords
Headphones
Flash Drives
Peripherals
Digital Clocks
Stereo Equipment
Speakers
Radios
Tape and CD Players
Recorders
Phonographs
iPods
Smart Watches
Telephonic Equipment like Walkie Talkies
Microwaves
Robotic Vacuums
Not Accepted
Batteries (except what is already in a device) of any kind
Lights/Light Bulbs of any kind
Ballistics
Smoke or Carbon Monoxide Detectors
Small Appliances without a circuit board:
Fans
Coffee Makers
Vacuums
Hair Straighteners or Curlers
Electric Razors or Toothbrushes
Freon Appliances
Refrigerators, Air Conditioners, etc.
Large Appliances
Stoves or Heaters
Dishwashers
Washing Machines or Dryers
Ceiling Fans or Lighting Hardware
Media Materials
CDs or Casette Tapes
DVDs or BluRay Discs
VHS Tapes or Floppy Disks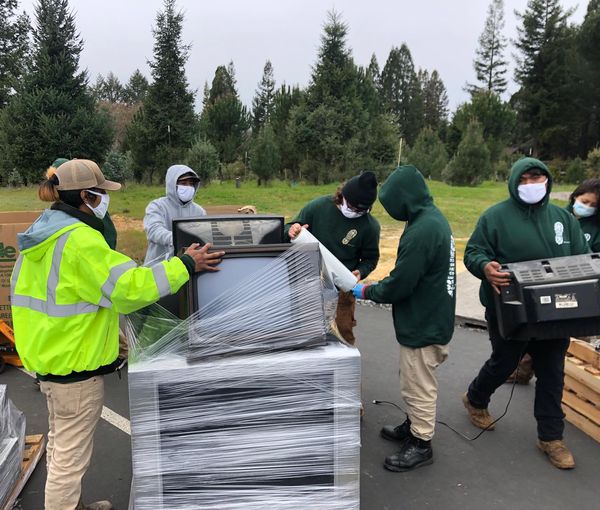 Mattresses: what we can and cannot recycle
Accepted
Clean and dry mattresses of all sizes
Clean and dry futon mattresses
Clean and dry box springs
Not Accepted
Items that are wet, heavily soiled, or infested with bedbugs
Air mattresses, car beds, or mattress pads/toppers
Cushions, pillows, or sleeping bags
Infants' products like strollers or cribs
Sofa beds, roll-away beds, or water beds
Oil filters: what we can and cannot recycle
Accepted
Drained oil filters
Not Accepted
Any kind of oil
Tires: what we can and cannot recycle
Accepted
Tires under 4′ (48″) in diameter
Tires with rims
Tires without rims
Up to nine tires
Not Accepted
Tires larger than 4′ (48″) in diameter
 Tires with debris or filling (concrete, styrofoam, etc.)
Vehicle parts
Tires roped or chained together
Ten or more tires
Tires infested with insects or other critters
Still have questions? Email us at

[email protected]

and we will answer your questions as soon as possible!