Zero Waste Crews
Our Zero Waste Crews provide various waste collection, management, and diversion services to keep material from the landfill while creating a positive experience for the young people on our crews.
Contact our team at [email protected]!
Conservation Corps North Bay acknowledges that we work in the traditional homeland of the Indigenous People of California.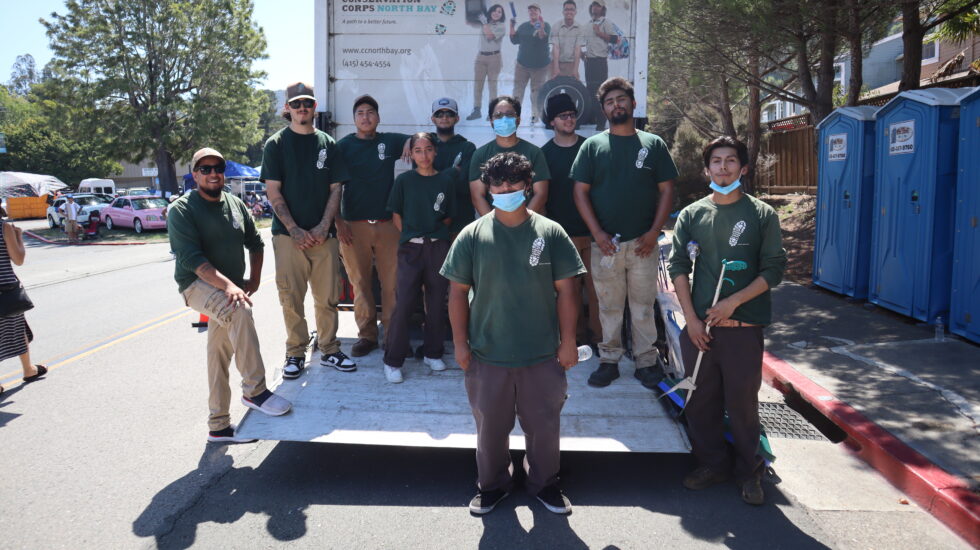 E-Waste Collection
Certified E-Waste Collector – State of California, CEWID #105496
CCNB is funded by CalRecycle to provide E-waste collection and education services in our communities at no charge to our clients throughout Marin and Sonoma County. We take collections and offer free pick-ups from businesses, households and government agencies and can provide proof of destruction documentation upon request. To schedule a pick-up, email us. 
To make this work possible, CCNB partners with
Electronic Recyclers International (ERI)
, an organization committed to providing safeguards for clients, employees, and the environment. ERI is the first company in the world to hold NAID AAA, R2, and e-Stewards certifications.
That means ERI is certified at the highest level possible for data destruction, sanitization and environmentally responsible recycling. Their eight facilities see over 60 audits a year, both planned and unannounced. They exceed compliance and CCNB is proud to work with ERI to protect consumers and the environment. 
CCNB regularly partners with government agencies, nonprofits, and businesses to hold E-waste collection events. Check out our events page to see our next collection event!
CCNB corpsmembers learn construction skills while building side-loading recycling bins that are customizable based on the budget and level of services needed by our clients.
Our durable, fire resistant bins are made from high quality recycled plastic lumber and come in single, dual, and triple stream options with security features designed to prevent pests and theft. 
Our crews have over two dozen routes across Sonoma and Marin County where they collect materials from bins in state, regional, and local parks.
Used Tire Collection
Tire Hauler – State of California, TPID # 1834406-01
As a certified and permitted waste-tire hauler, CCNB partners with local government agencies to identify public lands affected by illegally dumped tires and dispatch work crews to remove them responsibly. 
Our crews also host tire amnesty collection events for the public throughout the year, where community members can bring their used tires to our free events. 
Check out our events page to see our next used tire amnesty event!
CCNB is partnering with the Mattress Recycling Council to host mattress recycling events where the public can drop off used mattresses free of charge.
We accept mattresses from the public on a first come first serve basis on Mondays, Tuesdays, Wednesdays, and Thursdays at our location at 365 Blodgett Street in Cotati from 7:30am to 3:00pm (except on holidays). We recommend calling ahead to confirm availability.
We accept mattresses from the public at our location at 11 Pimentel Court in Novato on Mondays, Wednesdays, and Thursdays from 7:30 am to 3:00 pm (except on holidays). No appointment needed!
We also partner with local organizations, companies, and municipal agencies to host mattress recycling events in your backyard. Check out our events calendar to see our next recycling event!
Starting in 2021, CCNB began partnering with CARE to provide carpet collection for recycling at our Cotati office.
By reusing or recycling your used carpet pads and carpets you may reduce overall disposal costs, save landfill space, and help to employ and train our corpsmembers! 
Carpet and carpet tile collection is available to the public at $28 per vehicle-load on Mondays, Tuesdays, Wednesdays, and Thursdays at our location at 365 Blodgett Street in Cotati from 7:30 am to 3:00 pm (except on holidays.) No appointment needed!
In partnership with Zero Waste Sonoma, CCNB now collects edible food from Tier 1 Generators (like grocery stores) in Sonoma County to divert that food to folks who need it and to help generators meet the new SB 1383 regulations that took effect January 1, 2022. 
All food collected is delivered to a community organization that supports community members experiencing food insecurity. Crews conduct pickups in our brand-new refrigerated truck, giving corpsmembers the opportunity to earn new certifications in skills like food handling. We can also provide edible food recovery services like gleaning to local property owners who are creating excess produce.
 We will capture all necessary edible food collection data and provide you with monthly, customizable, reports so you can maintain compliance with the new regulations now in effect. We can provide edible food pickups of any size Tuesday through Saturday from 8 am to 2 pm.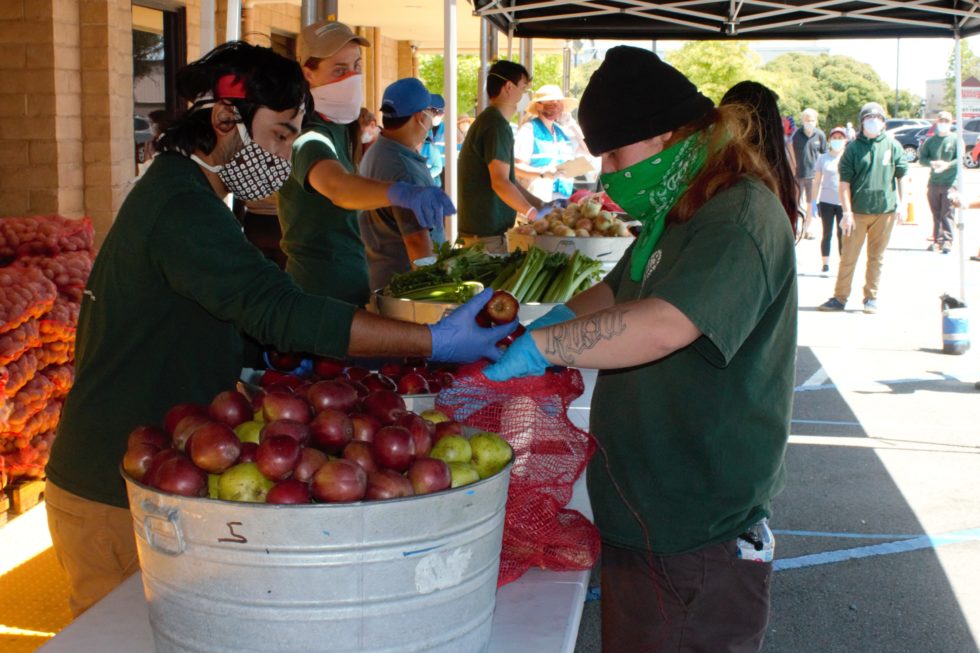 CCNB crews provide used motor oil recycling education to the public in Marin and Sonoma counties. This education includes:
Visiting Certified Collection Centers to ensure that signs are in good condition and are posted so that they are visible from the street.
Working to reduce illegal dumping at collection sites
Oil filter crushing operations
Providing DIY Oil Change kits for safe oil changes
Labeling storm drains throughout Northern California to prevent illegal dumping of used motor oil into our waterways.
CCNB manages materials produced at large and small events. We have provided event services to over 50 events per year including the Marin County Fair, Fairfax Festival, and the annual Bioneers Conference. Our services include:
Bin delivery and removal
Eco-station monitoring and servicing
Sorting and weighing of recycling, trash, and compost
Full event consulting and reporting
Educating the public
Event operations are provided through direct fee-for-service contracts based on the level of services needed.
Ready to join a crew?
You can gain valuable paid work experience working on a Zero Waste Crew with CCNB. Apply today!
Apply Now