Meet Our Career Pathways Team
Rodrigo Delgado
Marin Career Specialist and Recruiter
Rodrigo is currently attending San Francisco State University in pursuit of his bachelor's degree in Business Administration. He previously served in the US Navy. Rodrigo is very passionate in technology and worked in the cellphone industry for years.  He enjoys being physically active at the gym and camping.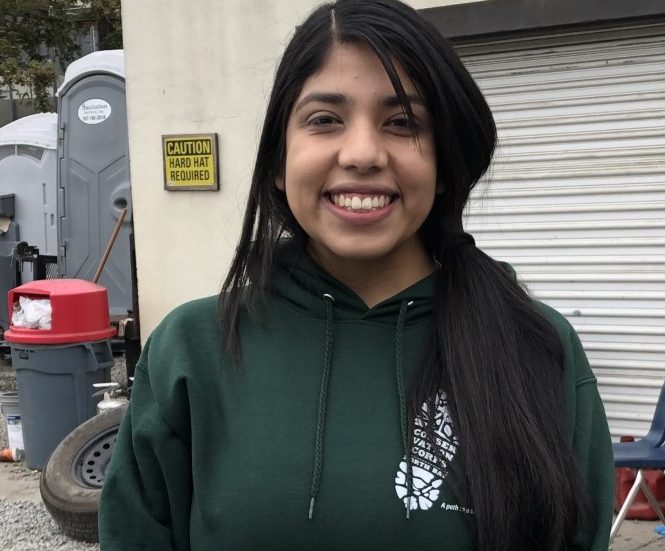 Jackie Garcia
Bilingual Career Pathways and People and Culture Coordinator 
Jackie has spent many years helping her community in many ways, especially the Latino community in Sonoma County. She helped non-English speaking parents and students learn about all the opportunities that the schools have to offer while also providing tutoring services to the students in need. While attending college she worked with the Reintegration Program, where she was coached on how to help individuals apply for jobs and help guide them through career exploration. Jackie was a first-generation college student who received her Bachelor of Arts in Political Science.
Thera Liakos
Career Pathways Coordinator
Thera (she/they) joined the CCNB team in Summer of 2022 and brings to the Career Pathways Program a background in the nonprofit and education sectors. Thera returns to Sonoma County after attaining her bachelor's degree in child development from California State University, Sacramento.  While in school, she was invited to work as a research assistant in her department and post-graduation, came back to assist their professor and mentor in a conference. Directly after graduation, Thera was a teacher and life coach at a private high school in Sacramento where she worked to help students who didn't fit well in a traditional public environment reach their educational and personal goals. Most recently, Thera worked to help launch an arts nonprofit in the county that engages individuals in therapeutic artmaking. Thera is excited to help corpsmembers envision what their best lives would look like and help them achieve their aspirations. Thera enjoys working in their community garden, exploring the trails of Sonoma County with her miniature Dachshund, and watching live music. 
Jazmin Pineda
Sonoma Career Specialist and Recruiter
★
Jazmin joined CCNB in 2017 as a corpsmember on the Natural Resource crew and then transitioned to Zero Waste program. Within these two departments she was able to gain valuable insight to both programs. Since Jazmin's first arrival at CCNB she knew right away that she wanted to continue to advance and be a part of the Career Pathways Department. Jazmin has previous experience working as a Youth Advocate at SAY, where she developed skills like de-escalation, setting boundaries, onsite housing, and case management. Working with SAY helped Jazmin solidify her love for helping young adults and working with them on barrier removal.
Jazmin got promoted in 2021 to Administrative Associate role, then shortly after was promoted to Career Specialist and Recruiter in the Career Pathways Department. She truly enjoys being able to continue her passion of helping others by providing case management, barrier removal, job placement, and other support.
Siobhan Purugganan
Sonoma Career Pathways Coordinator
Meet Siobhan Purugganan, a community-oriented professional with over 10 years of experience working to improve the lives of those around her.  Her work experience spans but is not limited to, homelessness, addiction, disabilities, career building, local and federal government training, hand-to-hand altercations, and more. Siobhan's dedication to her work is matched only by her commitment to her family, which includes a large son, Sol, a loyal 15-year-old dog, Kalua Skwishy Pork, and a beloved 10-year-old cat, Mars the Fatboy. With her passion for helping others and her love for her family, Siobhan is a compassionate and caring person who makes a positive impact on the world around her. 
How to pronounce Siobhan: Sha-von
Flor Ramirez
Bilingual Career Pathways Administrative Associate
Flor is the first generation in her family to attend college and is currently studying Criminal Justice with a minor in History at College of Marin. Flor recently joined CCNB in August of 2022. Before working at CCNB, Flor was working as an SLS Instructor in the County of Marin. In the past Flor has worked with many nonprofit organizations in her community to help facilitate and connect non-English speaking students, youth, adults, and parents with limited income and resources with the services that exist to support them. When joining CCNB, Flor knew that not only would she be able to make a living working here but that it would also help ground her and involve herself more in the community she now raises her child in. Flor is excited and looking forward to contributing services to her community.  
A star (★) next to a staff title denotes that this staff member is a former corpsmember. We are proud to have so many former program participants among our staff!
Conservation Corps North Bay is the oldest local nonprofit youth conservation corps in the country. Serving Marin and Sonoma Counties since 1982, CCNB has helped thousands of young people achieve their goals through education and job skills, while serving the environment and community.