Angel Minor, Chief Executive Officer
Angel joined the team as COO in 2017 and was appointed CEO by the Board of Directors in 2019. Angel has the general authority of all aspects of CCNB's management, including financial and budget control, grant compliance, technology, and human resources. She works closely with the Board of Directors and senior management team to develop and assess strategies to achieve agency-wide goals.
Angel is a finance and accounting leader with verifiable accomplishments. Most recently, she acted as a financial and business consultant for The National Indian Justice Center, Inc., (NIJC) an Indian owned and operated non-profit in Santa Rosa, California.
From 2005 – 2016 she was with Fireman's Fund Insurance Company, first as the company's Senior Director of Accounting and later as its Assistant Vice President, Finance and Operations. Angel earned her BS in Business Administration, Accounting degree from Sonoma State University.
Brandon Benton, Senior Coordinator, Zero Waste Programs
Brandon first joined CCNB in 2009 as a Natural Resources Crew corpsmember. After completing the program term, he left the Corps to enter in the work world and attend the Santa Rosa Junior College. Brandon rejoined CCNB in a staff role as a driver for the recycling department in 2012, and then grew into the position of Crew Supervisor for the Recycling Program. One of Brandon's favorite parts about working with CCNB is the opportunity to pay his experience forward by assisting youth reach their career and educational goals.
In his current role as Zero Waste Program Coordinator, Brandon oversees the day-to-day projects and operations of the program, along with various aspects of grant management and reporting, state compliance requirements, and youth development for corpsmembers. He is also key in assisting with the advancement of  the program by helping to identify new avenues of growth and opportunities to serve the community.
Kylie Carpenter, Marin Natural Resources Coordinator
Kylie joined CCNB in 2020 after relocating back to the Bay Area from Mammoth Lakes, CA. Her interest in plants and ecology sprouted at Sonoma State University where she received a degree in Environmental Studies and Planning with a concentration in conservation/restoration and a minor in biology. She is passionate about building resilient sustainable communities and has held many positions that help her work toward this. During her time at Sonoma State University, she worked for the Sonoma Land Trust and Wildlands Conservancy assisting with natural resource management projects and land management. Before attending college she worked in education with the Sonoma County Water Agency working with the Sonoma County Youth Ecology Corps and various local public and private schools. She then ventured to the city working for San Francisco Recreation and Parks as a member of the management team at beloved Camp Mather and The Randall Museum. In between, Kylie visited New Zealand to study permaculture and biodynamic farming.
Outside of CCNB, you can find Kylie backpacking, snowboarding, and practicing herbal medicine.
Mariah Chastain, Sonoma Natural Resources Coordinator
Mariah joined CCNB in June of 2020 after graduating college as a temporary crew supervisor. She hit the ground running, never backing down from the numerous challenges presented to her and quickly earned a permanent supervisor position. After a whirlwind of six months, she was promoted to Sonoma Natural Resources Coordinator. She is a proud first-generation and Native college graduate from Sonoma State University where she received a degree in Environmental Studies and Planning with a concentration in conservation/restoration and a minor in Biology. She is passionate about social justice issues, environmental justice and equity, and inclusivity. She previously was an intern with Sonoma Land Trust and was the student coordinator for Outdoor Pursuits at Sonoma State.
Mariah lived and studied biology for eleven months in Wales, United Kingdom and travelled to eleven countries. She has had to overcome many barriers in her life and is ecstatic to be working with youth and coworkers she can relate to. When she is not in the office, she is hiking, doing yoga, or snuggling with her puppy.
Brandy Faulkner, Controller
Brandy Faulkner joined CCNB in 2017 and is responsible for the day-to-day financial management of the organization. She comes to CCNB with 15 years of experience in non-profit finance and accounting, with a background in grant making and contract compliance.
Brandy has long been interested in the role that conservation plays in solving the operational needs of people and the planet and has a particular interest in engaging youth in this process.
Prior to getting her MBA in Sustainable Management from Presidio Graduate School, Brandy worked for 13 years in the biotech and marine science industries. She earned a bachelor's degree in Molecular, Cellular and Development Biology and a Certificate in Bioinformatics from UC Santa Cruz.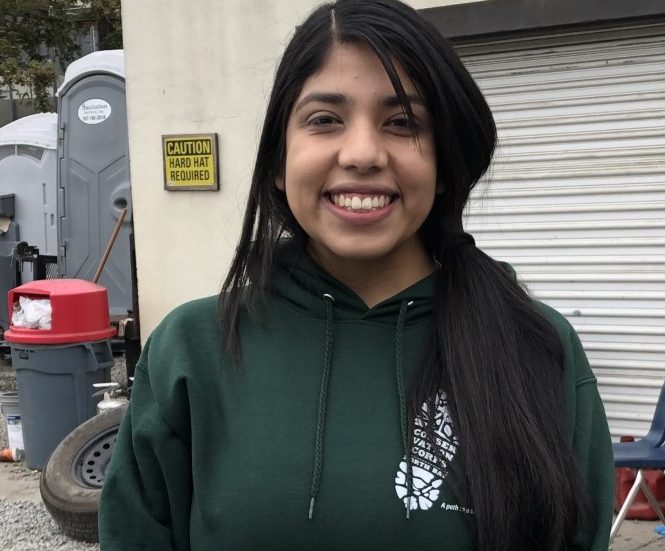 Jackie Garcia, Marin Job Coach and Recruiter
Jackie has spent many years helping her community in many ways, especially the Latino community in Sonoma County. She helped non-English speaking parents and students learn about all the opportunities that the schools have to offer while also providing tutoring services to the students in need. While attending college she worked with the Reintegration Program, where she was coached on how to help individuals apply for jobs and help guide them through career exploration. Jackie was a first-generation college student who received her Bachelor of Arts in Political Science.
Michelle Honey, Sonoma Career Pathways Coordinator
Michelle joined CCNB in 2017 as a part-time recruiter, then administrative assistant, and has since moved into the role of Career Pathways Coordinator. In this role, Michelle works with youth on case management, barrier removal/supportive services, career exploration, and job placement.
Michelle earned degrees in Native American Studies and Geography with an emphasis on Environmental Management and GIS from San Francisco State University in 2013. She has previous work experience in the food industry at the College of Marin's Organic Farm (through Cultural Conservancy) as well as retail and non-profit experience. Michelle also completed successful internships with Landpaths, Golden Gate Botanical Garden, and The Cultural Conservancy. While working in youth development is a new career path, Michelle finds it extremely rewarding and something she looks forward to continuing to devote herself to.
Monique Hooks, Career Pathways Manager
Monique is an Oakland native who has spent over a decade serving diverse families and at-risk youth throughout the Bay Area. Through her work at Urban Services YMCA and Girls Incorporated of Alameda County, she gained invaluable experience in program management, grant compliance, program evaluation, and supervision. During her tenure at Girls Inc. she oversaw their Teen Achievement Program which served 150 young women annually and focused on confidence building, skill development, college readiness, career exploration, and STEM skills like environmental engineering.
Monique also served on the Board of Welcome Ministry, a nonprofit that provides resources, support, and community for those struggling with homelessness.
Kyle LaRue, Zero Waste Programs Manager
Kyle joined CCNB's Recycling Program as an Assistant Supervisor in 2016 and quickly gained a vast amount of experience in youth development, conflict resolution, compliance management, and the complex and ever-evolving recycling industry. After his tenures as the Assistant Supervisor, Supervisor, and then lead Lead Supervisor he was promoted to the position of Recycling Program Coordinator. In this role, Kyle ensured the efficiency and quality of the program's operations, corpsmember development, data tracking, and collaborations with partner agencies. Currently, as the Zero Waste Programs Manager, Kyle oversees all of the Programs operations, development, material compliance, grant reporting, and advancement of CCNB's Zero Waste Events and Projects Portfolio.
Shante McDonald, Marin Career Pathways Coordinator
Shante McDonald is a Marin County native who has spent years serving her community by working with nonprofits. Through her work with People with Disabilities Succeeding and Bay Area Community Resources, she gained experience in job coaching, program coordination, and youth development. In her role as Career Pathways Coordinator at CCNB, she is developing workshops, handling case management, and helping corpsmembers with career exploration. She was a first-generation college student who received her BA in Business Administration from Sonoma State University.
Megan Meder, Natural Resources Manager
Megan was first exposed to CCNB and its mission in 2012 when she worked alongside a crew as a Natural Resources Program Assistant for the Sonoma County Water Agency in their Stream Maintenance Program. She worked as a Consulting Utility Forester for PG&E for the next several years where she cemented her tree knowledge and also became an ISA Certified Arborist.
Megan joined CCNB in 2017 as an Assistant Supervisor wanting to expand her leadership skills and inspire others to become passionate environmental stewards. Her dedication to the corpsmembers was undeniable and she was soon promoted to Supervisor. She has continued to grow as a leader in the roles of Sonoma Natural Resources Coordinator and Senior Coordinator and now as CCNB's Natural Resources Manager .
Tyler Pitts, Deputy Director
Tyler joined CCNB in 2015 and has served as a Crew Supervisor, Program Coordinator, and Natural Resources Manager during his time with the organization. As Deputy Director, he oversees CCNB's programming through the Career Pathways, Natural Resources, and Zero Waste departments. Tyler collaborates with partner agencies in Marin, Sonoma, and beyond to design impactful conservation work experience projects and develop pathways to employment for CCNB's Corpsmembers. Tyler also leads the estimating, contracting, grant writing, and reporting processes for CCNB's work in areas such as fire fuel reduction, habitat restoration, flood prevention, trail construction, material recovery and recycling, construction, and more.
Tyler's professional experience includes backcountry trail construction, environmental education, sustainability planning, and youth development. Before joining CCNB in 2015, he worked in New Hampshire with the Student Conservation Association, where he managed outdoor service-learning programs for Americorps members and high school volunteers. Tyler was awarded a BA with honors in Environmental Studies from the University of California, Santa Cruz. He holds the C-27 Landscaping Contractors License for CCNB, earned a Permaculture Design Certificate from Oregon State University, is a Qualified Water Efficient Landscaper, and serves on the Board of Directors for FireSafe Sonoma.
Anastasia Pryor, Director of Development and Communications
Anastasia works with her team to raise Conservation Corps North Bay's private funding and to share about CCNB's work with its partners, donors, and community. She comes with more than 20 years of experience working in Marin and Sonoma Counties. Her "first career" working in advertising and marketing for local media outlets including The Marin Independent Journal and The Press Democrat laid the foundation for her future work in community engagement and fundraising in the nonprofit sector.
Anastasia was most recently Director of Development at Bergin University of Canine Studies, where she significantly increased revenues while structuring a marketing and public relations plan. As Institutional Giving Officer at Yosemite Conservancy, Anastasia raised over $3 million for environmental restoration projects in one year by stewarding existing donors and building new relationships with corporate and foundation partners. Prior to that, she was Assistant Development Director at Sunny Hills Services in San Anselmo where she developed her passion for helping young people lead healthy and successful lives.
Anastasia is a graduate of the Novato and Santa Rosa Chamber Leadership Programs, is a member of the Leadership Santa Rosa Alumni Association, and has served as PR Committee Co-Chair for the Rotary Club of Oakland. She holds a BA from University of California at Berkeley.
Caitlin Quinn, Communications Coordinator
Caitlin joined the CCNB team in 2019 after honing her communications and development skills at Verity, Sonoma County's nonprofit rape crisis center. She has a passion for developing leadership and community pride in youth; she is also a nature lover and lifelong environmentalist. Caitlin earned her BA in Political Science with a minor in Public Policy at the University of California, Berkeley, and began her career in public service as a student government leader registering students to vote, expanding campus rights and representation for queer students, and organizing student support for the local labor movement.
Caitlin currently serves as an elected School Board Trustee for Petaluma City Schools, an appointed Commissioner representing District 2 on the Sonoma County Commission on the Status of Women, and the appointed Chair of the City of Petaluma's Animal Service Advisory Committee. Caitlin is a graduate of the Leadership Institute for Just and Resilient Communities, avid reader, and active member of Sonoma County's thriving community. She looks forward to engaging more with the community in Marin and growing CCNB's potential as well as her own.
Greg Sitter, Senior Coordinator, Natural Resources
Greg joined CCNB in 2020 with a diverse set of professional experiences and personal interests. He worked as an engineer in his homeland, France, before becoming a volunteer corps member at an international non-profit called ATD Fourth World. During his tenure at ATD Fourth World, Greg collaborated with governmental figures in France to craft legislature to improve the lives of those living in persistent poverty. When the chance arose to continue working with ATD Fourth World in the United States, Greg moved to New Orleans where he ran street library programs making books accessible to children and families with limited resources. 
Since moving to Sonoma County, Greg's career has shifted towards natural resources management; Greg has designed, installed, and maintained school gardens and worked as an arborist and tree climber for local tree services. In his spare time, Greg enjoys spending time with his family, woodworking projects, beekeeping, tending to his flock of chickens, bike rides, and hiking. He has a massive sweet tooth and ambitions to compete in a half ironman.
Sheila Walsh, Senior Evaluation and Operations Coordinator
Sheila joined CCNB in 2018 to design and manage the organization's data and evaluation systems. This helps CCNB use information about corpsmembers and their experiences in the program to better support corpsmembers on an individual level and for organization-wide decision making. Sheila also guides CCNB's participation in external evaluation projects, such as the Listen4Good national study to help nonprofits gather feedback from their participants and use that data for program improvements.
Sheila previously spent 10 years as an external evaluator, providing consulting services to nonprofits and foundations in the Bay Area and around the nation. Through this work, she realized the importance of working within a nonprofit to develop strong data tracking systems that balanced gathering key pieces of information and making use of that information without overburdening staff.